16 August, 2011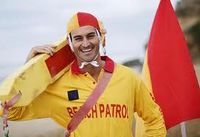 Light and breezy this week's Storm, if that's not a contradiction. The reason gets down to a mad, mad week on the work front – a full week of quizzing, a possible court cameo – plus the Festival of Words at Airey's Inlet. Enough for any mortal wordsmith.
Hence a cute idea I'm borrowing from the good folk at Column 8. Over last week, several correspondents wrote in to wonder about citizens from certain Australian towns and suburbs. If Sydneyites dwell in Sydney, or Hobartians reside along the Derwent, then are those from Lismore Lismorons? Or would inner Sydney types answer to Woolloomoolloonies? And spare a thought for Deniliquents upon the Murray.
You get the idea. Do Mentonies live in Mentone? I can't help thinking I'll be having some fun with Airyans on the weekend. Or maybe some Inletters…?
Submit your brainwaves with Australian locale beside your suggested residents. The funniest, freshest or freakiest ideas win the lollies, eventually. In other words, when I'm geographically capable of lodging my appraisal. Have fun.
"