21 June, 2013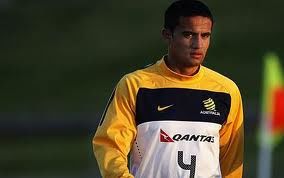 By the time you're reading this post, the prize-winners may have been selected on 702 ABC. (Check out Adam Spencer's ABC blog to see the lowdown, if the clock has passed 8am.) The game is part of the #daplay series, toying with a theme inspired by a Socceroo headline.
Can you combine celebrity with geography? Just like the burghers of Sydney renamed the quay's overpass as the Tim Cahill Expressway, after our team's main striker, the challenge is to name other celebs (sport, film, politics, anywhere) who can be honoured by a place on the map.
What about Manhattenborough? Or Nelson Mandelaware? Then there's the tinsel-town precinct of eastern Sydney, stretching from The Roxburgh to Geoffrey Rushcutters Bay, onto Edgertoncliff, Rose Byrne Bay and Wattson Bay. Pick anywhere in the atlas, or any hero in your heart, and see if you can splice the two strands in homage.
Gandolfiniland? Manly Beachley? It's addictive.