29 April, 2014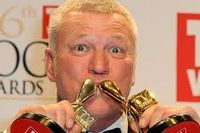 In honour of this week's 56th Logies Award, what say we play with some notable TV shows on the local box? While some here didn't score the bling – or even rate a shortlist – there's no ignoring their succulent clue potential.
No definition is needed, though if surface sense, or a critical aside, improves your rendition, then go nuts. Let's see who will win the Gold Logie of Clueing Class. May the master chef of manipulation be the best showing on the block.
MY KITCHEN RULES
REDFERN NOW
WENTWORTH
ROCKWIZ
SPICKS AND SPECKS
THE PROJECT
HOUSE HUSBANDS
AUSTRALIAN STORY
ID your show before each clue, and see who can dazzle the jury of peers.