10 May, 2016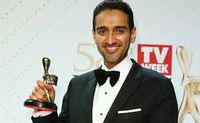 The 2016 Logies have truly delivered....dynamite names for clueing. In all my couch-potato days, I can't recall such a bountiful season of wordplay fodder, from anagram wonders to the full roll-call of X, J and Z.
Naturally, all we need to do is seize our TV moment, dear dabblers, and convert these winners into wordplay zingers. The set is yours. (No need for definitions, unless they benefit your clue, of course.) Action!
WALEED ALY
JESSICA MARAIS
DEBORAH MAILMAN
ERIK THOMSON
ALEX DIMITRIADES
ADAM DOVILE
NONI HAZLEHURST
TIM MINCHIN
CELIA IRELAND
MELINA VIDLER
A virtual statuette to the best on-set.