14 July, 2013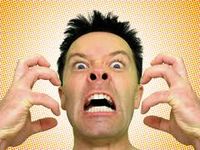 Your first word in each pair will lose 'it' to spell the second. Small Murray of song, say, is PETITE PETE. Or calling on mega-matters, a giant brown would be a TITAN TAN. As you can see, no mixing needed.
(Feel free to blab answers in the Comments. And can you compose another clue or two?)
OK hairstyle
Force sauce
Rock marble
Forget mantra
Diplomatic staff
Sexual fuel
Secular song
Parking scam
Any more to add?
SOLUTION NEXT WEEK
BB420 SOLUTION: Pudding, lantern, carpet, square, realist, spell, potion, eye
"