25 April, 2014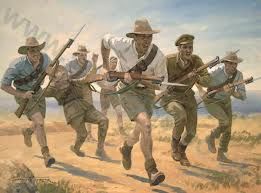 In honour of those who fell in battle, this Anzac Day Folly sees the first letter missing in action to produce the second word. Swallow a lot of ice, for example, would be DRINK RINK, while couch-potato paranoia could be diagnosed as LANGUISH ANGUISH.
Unlike previous follies, where the manipulated word could be second or third, let's abide by the sequence where the first word only sees its leader lost. That will make it easier – though we can offset that by omitting any letter count, keeping the numbers unknown.
Forewarned is forearmed? Let's see:
DA1 – Witches' range
DA2 – Foggy fever
DA3 – For Rent
DA4 – Showing umbrage
DA5 – Space drug?
DA6 – Hussy brass
Solve these, or make your own. Ensure to supply your name, rank and serial number to each original clue – lest we forget.