7 July, 2015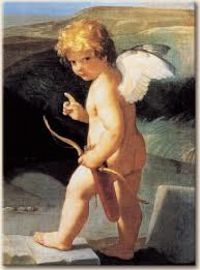 For the last 3 weeks I've been a subscriber to the Macquarie's Word of the Day. The service is free - scroll bottom left - and it's always curious to see what random morsel drops on your plate each morning. (Though I'd also lobby for the derivation to be included, if the lexicographers are listening.)
Below is a sampling of the first wave, a departure from the usual obscurity of this blog's Word of the Week. Instead of rhopalic and witzelsucht, Lady Mac has endowed us with ghoul and sojourn, and other grabs below, complete with definitions.
Question being, can you clue any of these with pizzazz?
MURINE - mouse-like
PORTERGAFF - mixed drink of porter or stout with ginger beer or lemonade
EXORBITANT - exceeding the bounds of custom or reason
PUTTO - representation of a young naked boy, especially as a cherub
BRIC-A-BRAC - assorted objects or ornaments
FUTTOCK - curved timber within a frame or rib of a tall ship
VINIFEROUS - producing wine
SOJOURN - temporary stay
GHOUL - evil demon of Islamic legend
Don't be murine, and produce something fine.