4 February, 2014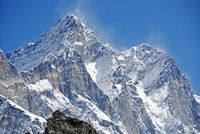 In case you missed the memo – I'm roaming the peaks of Nepal until later this month, when blog-life will kick back to usual services. In the meantime, to keep your clue skills peaking, see who can conjure the headiest wordplay from any of these majestic pinnacles. Only wordplay is required – though extra kudos if you can imply a karabiner, or any other Himalayan vibe.
Mount Everest
Sagamartha (the local name)
Kanchenjunga (28,169 feet – the 3rd highest behind K2)
Lhotse (South Peak – pictured)
Makalu (Great Black)
Cho Oyu (aka Turquoise Goddess)
Dhaulagiri (White Mountain)
Nanga Parbat (Naked Mountain)
Gasherbrum (Beautiful Mountain)
Annapurna (Goddess of the Harvests)
Machapuchare (curiously dubbed Fish Tail)
Remember: vitality without fatality.