10 September, 2013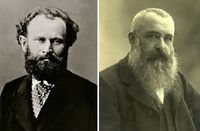 This week, to take a break from intense Storming, I propose a game based on letter patterns. The idea was inspired by a crossword solver called Rob, who emailed last week. Last Friday he suspected my quick clue – Ineffectual people – was pointing to LIMP DICKS, rather than LAME DUCKS!
Can't imagine we'll top that ambiguity, but wonders never cease across these forums. For that's our challenge – to craft a quick clue, where two answers share a strong overlap of letters. We can look for the sober kind:
M-N-T = French artist (2)
I-E-A-D = Nation (2)
– – MBA = Dance style (3) [RUMBA, SAMBA, ZUMBA]
Or the lame-duck deviations:
-OWARD = Chinless wonder (2)
P-R-I-G = Beach preoccupation (2)
If you feel a need to spell out your answers, such as my PARKING & PERVING example, then please oblige. Otherwise, let's just see who can unearth the neatest or drollest examples. (And if you can imagine a further tangent this idea can take, then please suggest.) With no Friday ballot involved, this is less a Storm than a spot of R&R to give our voting brains a break!