5 July, 2016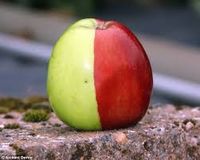 This may not work. We can only try. But due to the finely balanced shemozzle we now own for a federal parliament, let's split words down the middle and clue both halves. As with this post's title - marg/inal - choose words that divide evenly, and don't create a smaller word or words.
So no pig/eon, or ances/tries etc. But more parli/ament and stu/dio stuff. Once you make the split, your challenge is to create the neatest pair of wordplays for both bits. Like so:
DISG/ORGE - Digs Gaga / fake leader fled
RAMSH/ACKLE - Sheep squash boundaries / expert grasps folklore by heart
Like I say, the game is flaky, and may not appeal to every appe/tite, but I reckon there's some fun in the format. Not to mention the scope to be creative with potential splicings of the two halves in your clueplay.
And again, speaking of that stu/dio, I will be a tad cameo this week due to more radiophonic duties on 7774ABC Arvos. If you get a chance between 1-3, tune in. Or text in if you dare. Enjoy the exper/iment.