12 October, 2010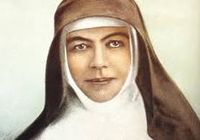 With Mary MacKillop due for the papal nod this Sunday, every business will be trying to catch the action. You local bar shall offer strum & coke (beatifying the Bundy Bear), or offering a free Bloody Mary for anyone who can recite the Nicene Creed backwards.
Cinemas will screen the holy treble of Singin in the Strain (a martyrdom doco), Fellowship of the String (rosary bead primer) and that cult wife-swapper of the 70s: Bob, Ted, Carol and Ignatius.
Meanwhile Mitre 10 will be Mitre 13 – to reflect the Last Supper – and offer a bargain on tarpaulins (as the carry an apostle) and MacKillop head screwdrivers.
Go crazy. Through plugs or plagues, deliberate promotion or cultural vandalism, tell us how this coming week will surf MacKillop Mania. Wordplay is wisest, though feel free to show your ecumenical chops. And don't be shy to pull in some of the umpteen other saints to help your gag transcend to new heights. The top twelve creations – shafting Judas – will get my blessings on the Sabbath.
Deadline is sundown on Thursday, with our very own DA Vinci enigma (care of regular Stormer SB) to solve on Friday. Go forth and diversify.
"