8 January, 2013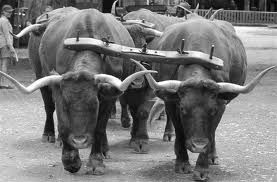 Seems only balanced, after picking out the best clues of last year, that I put forward some clunkers. At least, that's how I viewed this lot, six clues that needed a little rework for reasons I outline in brackets. Take a look and see if you agree. Share your views in the forum, and by all means have a dip at drafting your new-and-improved clues for the same answers.
Fine given to the old is a burden = YOKE [Crux goes a furrow too far, suggesting that 'given to' can act as a container signpost. I'm not sold.]

Extraordinary achievement chiefly entitles one to rest in place of honour when dead = LIE IN STATE [This effort from Alberich seems to function oretty much as a quick clue, not to mention the duplicaiton of 'in'.]

Meaty bag's false memory = MEGABYTE [Either Shed is maligning an elderly woman and/or this clue's surface sense is a dog's breakfast.]

Computer that's best under the work surface = DESKTOP [Classic hookworm from Orense, where work surface as desk is one & the same thing.]

Screen actress a prickly one to watch = HOLLY HUNTER [Fine, Bonxie. I like your holly hint, but hunter as watcher?]

Ruler making one tremble when speaking = SHEIKH [Times 8818 throws in surplus language for what should be a sleek homohone clue. Who's one?]
n"