22 August, 2013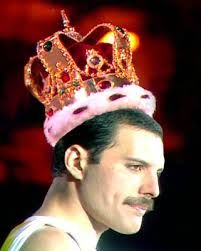 Time to drag out some less-than-thrilling clues from the Brits. See if you side with my meh-ness, or possibly find exception to my derision. And should the cryptic spirit move, then what say we compose finer alternatives as well.
Mercury's group on board = QUEEN [Qaos spells out the bleeding obvious, hardly a scrap of crypticity about it.]

Obstinate swine lost the lead = PIGHEADED [Times 9593 makes me shiver just to revisit. Swine = pig, lead = head. Meh.]

Scoundrel cad and bounder for starters forming crust = SCAB [Sorry, Dogberry, but the surface story is a dog's breakfast.]

Steer tight, one way to show determination = GRIT ONE'S TEETH [Where's the anagram signpost in Philistine's clue?]

Spooner's happy smiling at wedding, maybe = CEREMONY [Merry what? Maybe this clue belongs in a Huh post, but I suspect Gaff's spoon is bent.]

District in which one's nearest pub has Ruth appearing topless = LOCALITY [A local is a local because it's local, within your district. This clue is from FT's Wanderer. A turbo tapeworm.]
n"