10 April, 2014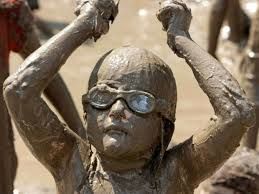 You know I'm a fan of Paul (or Mudd as John Halpern is known in the Financial Times.) But even he can stray into the realm of Meh, those crummy clues which should remain on the drawing board.
Take a look at this latest batch, culled from Brit sources. See if my beefs are warranted, or whether I'm just Mudd-slinging. Give us your counter-arguments too, by all means. (And can you compose sweeter clues for any of these same solutions?)
Dalmatians aren't so clean = UNSPOTTED [Mudd slips into the mire with this lazy double-def, I reckon.]

Decorator working in part of Paris = TROCADERO [Picaroon insists that 'working' works as anagram indicator. Maybe it does. I'm not so quickly sold.]

Dancing king sealion that's sold by charlatan = SNAKE OIL [Welcome to the cryptic fold, Alchemi – but this surface sense is up the spout.]

As lice sing badly, there are limits! = CEILINGS [Not sure the setter, but this is another stinker – a silly tale, and a redundant 'as']

Catch one buried in a book in concert = AT ONE TIME [While Times 9836 sees fit to repeat 'one' in the clue. Boo.]

South American sound of person making mark = INCAN [I loathe to speak ill of the dead, but Cinephile – aka Araucaria – oversteps his homophone licence here.]

Possibly Nancy's unauthorised absence? = FRENCH LEAVE [Yes, I know Nancy is a French town, but I thought this wile needed more guile. From Times 9295]
Argue or agree in the Forum. And who can make a zingier clue for any of the seven answers?
"