27 June, 2011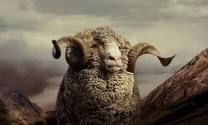 Let me be on record that I loved Times 9039, better known as last Saturday's puzzle, despite not fully getting one clue, and entering a wrong solution for another. Three of the clues were Hall of Famers, I reckon. Namely:
Wounded under fire, finally survive = ENDURE
Parking in lashing rain behind road hazard? = HAIRPIN BEND
Pop group I sample – that's stealing = BANDITRY
A trio supremo, in my book. The clue that flummoxed involved a stew I never knew – DAUBE – while my wrong solution, I'm prepared to argue, is an alternative answer. See what you think:
Go over to Rome in haste for coat? = FLEECE (and my bid, MERINO)
Was I wrong to think merino – yes or no? For more wordy chats and conundrums like these, join the solving ranks as we battle to knock off the coming week of Times crosswords, appeairing in The Australian. Though today's puzzle – 9040 – has a hard act to follow.