19 October, 2010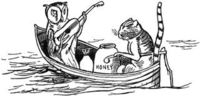 That seemed the best name: milericks. Or that will do for now. Just like a limerick, a five-line poem with the same AABBA pattern, the milerick ignores rhyme in favour of anagrams. Here's a sample:
Calling all poets, the droller, the sager:
Time to create, and shift mental gears
To dabble in this new idea
With word-warping your aide
And see who rocks as this Storm rages.
At least that's a pure milerick, where whole words are scrambled in all five cases to keep the pattern tidy. But feel free to take a few departures, such as this more familiar milerick ditty:
There was a young crossword solver
Who met a girl, and they became lovers,
But when things turned nuptial
The church stuffed up Latin,
Proving you can't rely on ol' revs.
Not sure about mixing whole lines to make new lines. That sounds both unwieldy and unwise, and maybe outside the milerick spirit. Let's restrict our riot to the mixing of single words – or a few words – to obey the format. In short, let's keep it short, and real, in honour of Edward Lear.
Alert your Muse. Muster your emus. You have till sundown Thursday to make your best milerick, with Noble Prizes for the finest pure versions, and the smartest freestyle, while the overall winner wins a trip for two to Nantucket.
"