9 October, 2014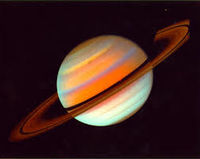 Between blood moons and Iraq missions, I'm trying to write a manuscript about riddles, a long and loopy manuscript. Hence the blog will enter a quieter phase for a while. The mainstays of Birdbrain, WoW and Salon will keep their orbit, while the likes of Storms and Follies are likely to be more sporadic. I'm sure you can understand.
So let's take a flight out of here, a million miles from Operation Okra and burqa bans and political memoirs to admire the moons of Saturn. What lovely names they own - just perfect for manipulating. The seven principal moons are:
Mimas
Enceladus
Tethys
Dione
Rhea
Titan
Iapetus
Such is your mission, should you choose to accept it. Let's see who can conjure the niftiest clue - no definition needed - for any or all of these heavenly bodies. God speed.