1 July, 2012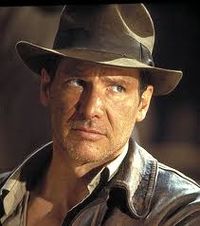 If look look carefully, you'll notice ROTOR is hiding inside Raiders of the Lost Ark, selecting a letter per word, just as RISING lurks in the Paul Kelly & Archie Roach classic – From Little Things Big Things Grow.
Applying the same technique, can you find the word, as clued in brackets, hiding in these other longer titles? (And what other song or movie clips can you offer to fellow culture vultures to sample?)
Letters from Iwo Jima (space)
How to Train Your Dragon (store)
There Will Be Blood (even)
Where the Wild Things Are (moan)
Priscilla, Queen of the Desert (belts)
The Day After Tomorrow (greenie?)
Eternal Sunshine of the Spotless Mind (rose)
The Passion of the Christ (handles)
What other song or film titles can be sampled?
SOLUTION NEXT WEEK
BB368 SOLUTION: Gab, gas, jaw, rap, say, wax, yak, yap (Other articulations are possible.)