25 August, 2013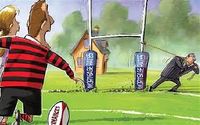 You may find yourself stumped by your own clue with this Birdbrain. (A familiar scenario for your blog host, believe me.) Reason being, this little teaser was actually generated onsite, handpicking your best suggestions a year ago.
The challenge was all out moving the letter H – or goalposts – within a word. Yell/compass point, say, is SHOUT/SOUTH. As in all examples, only the H is moved, taking up a different position within the second word.
Of the last tentacle/stature
Owns/tree
Planet/core
Sexy London/scram!
Shrink/paler
After/redeeming
Indonesian province/hurt
Beside/jot
Manchester/mad
SOLUTION NEXT WEEK
BB424 SOLUTION: We found brazil (a wood), chad (punched paper scrap), china, guinea, japan (lacquer), morocco (leather), turkey and wales (skin welts). Other nations may qualify.