20 February, 2014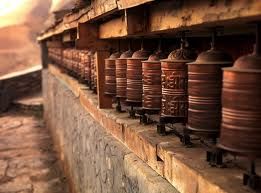 Hey gang – the Oz one is back from the ozone, replenished & knackered all in one paradoxical bundle. Nepal was stunning. The 16-day trek was tough but constantly rewarding, climbing some 2500 metres from remote airstrip to Everest Base Camp. The only wheel I saw in a fortnight was a Buddhist prayer wheel, so rough was the terrain. A blast of a trip, with chilblains and smelly socks as souvenirs.
Thanks for keeping the blog wheels spinning here too – your clues and quips are always prized. Even the spambots added to the merriment with their phony names and bogus wisdoms.
To mark the restart of more immediate mischief, what say we define any word or name by incorporating its one-word anagram in the definition. NEPALI, say, is a native of ALPINE terrain. While KITCHEN is where cooks let stews THICKEN. And we all know ENRAGED means ANGERED.
Simple pre-Friday folly, but let's see who can seduce the jury, or make us cackle at least. Thanks again for the smart traffic.