6 May, 2016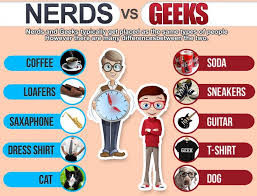 I'm more nerd than geek. Or that will be my position on Thursday, May 19, taking part in an illustrious shame-fest called Night of the Nerds, with geek Adam Spencer, Nobelist Peter Doherty and Youtube hero Natalie Tran. Part of the Sydney Wrtiers' Fest, the evening is bound to be comical, and cerebral.
By way of preparation, I've been swotting the differences between the two tribes. (Do you have a theory? What are the key distinctions, do you think?) Such research led me to an intriguing graph, compiled by US language-sifter Burr Settles, a chart depicting what words are favoured by which tribe.
Today's folly is an overdue cluefest, playing around with geek-speak, and nerd-words. Which nerd/geek/boffin/whiz can construct the smartest clues, using just wordplay only. (And which is your camp - nerd or geek? And why?)
GEEK-SPEAK
webcomic
UNIX
ibooks
Kickstarter
infographic
cosplay
epic win
Tumblr
NERD WORDS
big data
jeopardy
The Hobbit
intellectual
autism
study mode
Harvard
Atari
Give me your clues - and your geek/nerd views - below. Cheers!