30 April, 2011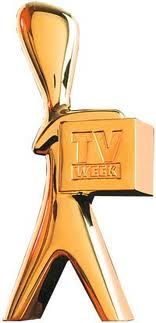 Thirteen players wrangled nine new-word clues – and I'm the chump who has to call a winner. To paraphrase Alfred the butler, 'With great puzzle power, comes great puzzle responsibility.'
Before I wheel out winners, joint winners, and special mentions, let me encourage newcomers. Even if you fall short of the grand shortlist, a Storm like this will only make you craftier. Anyway, with Logies a-calling tomorrow, and a tux still to collect from the rental boutique, I won't dally. Instead I'll name the best of a brilliant blur.
EGO-SURF: Vainly search for one love – certain trim female [RK picks up where she left off. Not a word wasted – always a feat to impress the jury. Not to mention the 'story'.]
FAUXMANCE: Turn Wolverine, for example, into celebrity tabloid creation [Perhaps Mr X light-fingered the talon-fingered tack, but this is exquisite architecture.]
GOOGLEGANGER: Egg on bait to net twin [Compact charade from X again.]
GOOGLEGANGER: Go back and forth, and look around the crowd until you find your namesake [Eloquent tale from SK, equal first, with special mention to 47 for his ogle + Grange tack.]
LOW-HANGING FRUIT: Unfailing growth model easily attainable [Sam finds the best anagram of a mad medley, even though the definition seems mildly awry. Special mention to Boniface, with a kindred flaw, plus JPR for a Dr Who episode, and DC for his double-meaning sequence.]
MAMIL: Iron-clad male – Tony Abbott, perhaps? [As tight as Tony's sixpack, from RK. With Nib's alpha idea, and DC's Mr Bean tangent worth an exultant shout.]
POCKET DIAL: Kinky plaid skirt; coke-addled model: unexpected buzz [DC shares top billing with two other compilers, below. This was the hardest to split.]
POCKET DIAL: Nick face with ring by accident [SK, and…]
POCKET DIAL: Tackle iPod malfunction for aberrant ringing […Sam.]
PRESENTEEISM: Glasshouses seen shattered by tee not working properly, as a rule [Boniface hits his drive truly here. Glass-houses is ingenious, as….]
PRESENTEEISM: Ill-attendance at work; misrepresent routine condition. [..RV. The covert command of R/OUT/IN/E is brain-spinning. A special shout to SK, Sam plus AK, who needed a stronger anagram marker.]
SHOCKUMENTARY: Chose manly truck, configured with clout, showing real biffo [RV combines cl/out with real punch. A brilliant twist from Boniface, with Harry S TRUMAN, and also loved Nib's murky acne. Though many fine clues ill-used shock in the same sense as the answer, and SK fell afoul with 'will'.]
Only fair that the prize-reckoning is as hearty as your clue-crafting. According to my fallible maths, with 3 points for a hall-of-famer, and a point for a special mention, the New-Clue Logies go to Sam and SK (7), with the nearby trio of Mr X, RK and RV. While Boniface and DC have every right to attend the after-party. Thanks for the teamwork, and sustained scintillation. Now where's that monkey suit?
STOP PRESS: SCREWAGE: Scrooge drops his specs in awe, taken aback at wine surcharge [Coming from the clouds, Boniface scores gold, ironically with a SCREWAGE corker! Eight points = the Gold Logie, as DC picks up a mention for his wise/man deceit. Congratz.]
"