6 November, 2012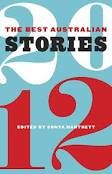 Here's a tip for your Christmas list, a book of stories to accompany the hijinks of Puzzles and Words. I was chuffed to learn that Oxtales had made the anuual cull, overseen by editor Sonya Hartnett, for this wonderful Black Inc tradition.
Look for the snazzy cover in your next bookstore amble, and check out the parade of new voices, and um, more experienced voices, in The Best Australian Stories 2012. The best opening line must belong to James Bradley: A week after he killed himself, Dane Johnson came to visit Toby at the service station. Wanna read more? Get the book.
In other news, I'm chatting in Newcastle & Lake Macquarie – two free gigs about clues and word-skews. And later in Melbourne, on Monday December 2, 7pm at the Fitzroy Town Hall Reading Room. Again it's gratis, but spaces are going fast, so you will need to book.