25 July, 2011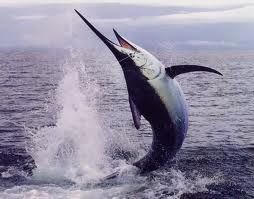 This Sunday morning, at 8.45 on ABC radio, I'll be linking fish with tennis. The exercise is part of a think-piece I wrote for the Science Show, how cryptic clues invite a thing called compulsory imagination: what any brain needs to keep supple. And subtle. The slot is called Ockham's Razor. If you miss the frolic in real time, you can always catch the podcast.
And speaking of fish, I floundered with two UK puzzles last week, two gems in fact, one from Loroso in the Financial Times, and the other, a Bonxie in The Guardian. Yes, I cracked both, with many ticks, and a few queries, but the fight was fierce and hectic, blue-water style.
After Paul, I'm thinking Bonxie is looming as my next fave, at least this week, since his latest crossword has a world of wile and guile. As for Loroso, we all know the cut of his jib: dashing and deceitful as ever. I can recommend both.
And last, just to keep your nerves in tune, we launch into a new week of Times solving, attempting to unravel the week's six offerings in The Australian. Just for the record, I'm poised on a count of 7 in a row, but any solver is only as good as the puzzle that got away.
"