4 January, 2012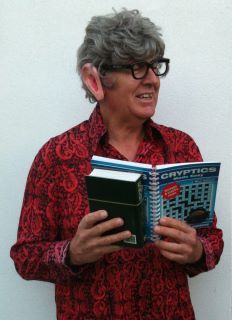 Yes, that is me. Or I should say it's a bloke called David Knowles doing a reasonable impression of me. A fan of L&N, David had to dress as a TV character for a party last month, and thought he'd turn the dictionary bloke into a living burlesque. Safe to say he wasn't mistaken for Lily. (Thanks for posting the pic, David – not.)
In more relevant crossword news, a note from Carla online let me know about the latest New Scientist, which carries a feature about our favourite puzzle genre. Seems the crossword is the perfect fusion of memory, logic and creativity. Did I say perfect? Make that diabolical. Worth grabbing a copy if you can.
News for Melbourne peeps: you can catch me gasbagging on RRR next week, a guest spot on The Breakfasters, as hosted by the lovely wags behind The Enthusiast, a cultural cheerleader I happen to relish. Only catch, you will need to tune the bed-sharing trannie around 7.30am. Ouch, I know.
Lastly, a bit of wordplay to keep your summer brain in gear. Thumbing through my ideas book – a catch-all of stray puzzle inklings – I came upon a list: Nosy, Mappers, Neutral, Limbo, Naive. See the pattern? Each word is a scrambled brand-name: Sony, Pampers, Renault, Mobil, Evian.
That's when the lightbulb flickered. Let's pretend the anagram is the brand, and invent a slogan that plays with both product and meaning. Such as:
NOSY – hi-fi made to pry your mind
Keep your fuel costs way down low with LIMBO
MAPPERS – the key to baby's comfort
Over to you. Let's keep anagrams down to single words only, just to spice the quest – though plausible pseudo-words are fine. A vintage bottle of SNOTYARD shiraz to the best.