5 December, 2011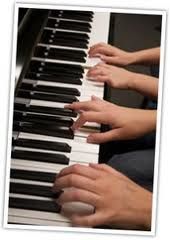 When JD isn't throwing in her tuppence at our weekly Storms, or Word of the Week, she's bravely attempting to instruct Gen-Z on how to play the piano. As she writes,
Came across an interesting little mnemonic to use with my piano students to help them remember the order of sharps. "Father Charles goes down and ends battle." To remember the flats, which are in the reverse order it becomes: "Battle ends and down goes Charles' father."
Joyce goes on to say, I thought it may be an interesting exercise a) to name this type of example, and b) to come up with new ones. And this tin-eared blog host agrees. What's a good name for a reversible mnemonic? (And please don't say cinomenm!) Is this the only living example? And does anyone have the adequate precocity to make another sentence with such reciprocity – mnemonic or not?
And lastly, as a bit of mirth to supply that needed energy boost, enjoy the recently viralised bloopers tape for Letters & Numbers. Also available in transistor version, they tell me.