2 July, 2013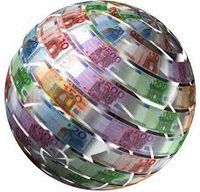 To mark the start of a new financial year, we look at some of the weirder-arsed coinage of the world. (I swear only bankers without frontiers know these twelve.) Our challenge is to choose a currency per continent – Asia, Africa, Europe – and make a clue involving wordplay only.
Play all you like, coining clues for all twelve of course, but come 'deposit' time on Thursday afternoon, only one per continent can be nominated.
Use a monetary alias, please, and offer financial advice if you see an opportunity. Bank your three clues between 1-5 on Thursday, by declaring your final 3-coin shortlist in the forum. Then on Friday, we assess the market and vote 3/1 for each continent, emailing to DAMail a total of six votes.
Clear as krona? Let's meet the moolah:
ASIA
ngultrum (Bhutan)
ringgit (Malaysia)
rufiyaa (Maldives)
togrog (Mongolia)
AFRICA
ekwele (Eq Guinea)
kwacha (Zambia)
lilangeni (Swaziland)
nakfa (Eritrea)
EUROPE
dinheiro (Portugal)
hryvnia (Ukraine)
markka (Finland)
perper (Montenegro)
Happy conversion, and may the best merchant banker win.