8 February, 2011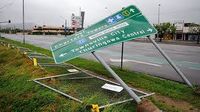 Spare a thought for Tully. And Grantham. And Irymple. In fact, most of Australia seems majorly dishevelled, with inland tsunami, tropical cyclones, rain events and bushfire. Lending the inspiration for this week's Storm, where familiar towns are not completely familiar, with a letter blown off, or a new letter thrown in.
Townsville, say, is now Towsville: drag capital of Queensland. While Lismore is Liesmore: What separates the career politician from the rookie. And I can Listmore to:
Darin: home of the brave
Ordertown: army base
Freemantle: honorary doctorate
That's the essence. Add a letter, or blast one out, and give us the new town's description, OR treat the altered name as a word in the dictionary. Hence a place like Pambula, near Eden, could either be:
Prambula: walk with stroller
Or Prambula: baby-boom hub of the Sapphire Coast
And where a town is less well-known, like Pambula perhaps, then maybe supply the town intact, before the manipulation. Let's aim for an atlas of honour – say a list of 20 to toast – with special prizes for Delete (funniest and finest) and Insert (ditto).
Now you know the Laws of Nature, wreak havoc. The storm abates by first brandy balloon on Thursday.
"