2 March, 2014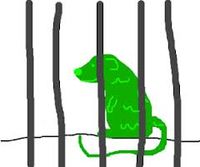 Each clue can be answered by a reversible (and somewhat surreal) two-word phrase. Viscous menagerie, say, is OOZY ZOO. Refuse to assent? DON'T NOD – agreed? That's how the game works, using the most unlikely pairings to create a palindrome.
(See how many of the six you can solve – and try to anticipate in the forum the new half-dozen phrases coming your way next week, in the guise of Oozy Zoo Two!)
Dense filth (4,3)
Fish fanatic (4,3)
CEOs cry (6,3)
Brazil underbelly? (3,4)
Regal lubricant? (4,3)
Note umps (3,8)
SOLUTION NEXT WEEK
BB449 SOLUTION: Crossword (sword), taxes (axe), tungsten (Sten), glockenspiel (Glock), tepee (epee), sprocket (rocket – or rock!), Macedonia (mace), gauziness (Uzi), escudo (Scud), marrow (arrow), Krishna (kris), shivery (shiv)
"