11 September, 2012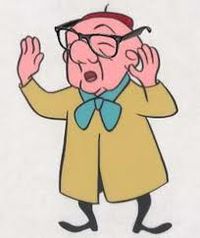 Let's see how this Storm goes. It may be short-sighted, but we have enough Dabblers in the loop to have some fun here.
As mentioned, I own a new book of Telegraph crosswords, including the work of Myops, among their sneakier setters. His real name is John McKie, a crafty Glaswegian clue-monger.
But – and here's the experiment – I've peeked at a Myops solution (without ever seeing the clues), and handpicked five words for us to clue. Big question being: can we better the illustrious Scot? Pick a Scottish alias and give these five words a whirl.
Come Thursday, 9pm, present your best five, one clue per word. We then vote for the best per word (3 points), plus two near misses (2 points) across the flock, making just 7 votes in total. I will draft a shortlist, and then couch each zinger against the revealed work of Mr Myops. And see if we shine, or the Scot bags the lot… So, your words, Bravehearts:
DASH
BARREL
TALISMAN
MIRACULOUS
CONFIDENTIALLY
Provide word and clue (plus wordplay notes) to keep things clear. And feel free to pass advice, or offer alternatives to another's work if you see a good chance. Most important: have fun wee laddies and lassies.