11 April, 2011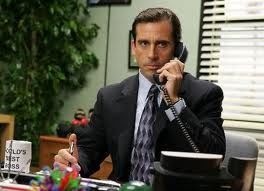 When it comes to mockumentaries about stationery companies, my bias has been towards The [American] Office, only because I find Steve Carell's cowardice more comic than Ricky Gervais's egotism. And on Saturday, that bias bit me on the ass. Or arse – depending on which sitcom you prefer.
Because I slipped again. This time in Times 8974, with this clue:
Use services of Wernham Hogg, where business is down (5,5)
Firstly, I forgot that Wernham Hogg was the original Dunder Mifflin. And second, I was wrongfooted by the Times resorting to contemporary TV. Not a common event. Meaning I missed the sitcom link, in tandem with then Westminster reference of Part II – since an ORDER PAPER is a running sheet of Parliament's carry-on. I took a dumb punt with GREEN PAPER.
Rats, and double rats. And I'd worked so hard to reach Number 3 in my new century bid too! Untying some real pretzels, including these last two that I still fully grasp. Do you?
Extent of Crusaders' objective? = ACRE [Essentially sacred?]
To lose weight, steals fruit = HIPS [does steals = whips?]
So if you wish to start a clean slate with Astle, aiming for a run of solved Times with no book-peeking, and no Google-whacking, and no solution-trading among peers – but plenty of peer support – then order your paper for Times 8974 today in The Australian. And save me from being a Dunderhead.