21 March, 2017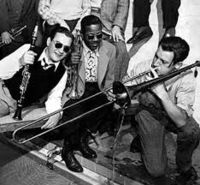 As a sneak peek of this week's Wordplay column in the SMH, here's a smatter of old-time slang from the original hipster movement of the 1940s. Adrift between jazz cats and beatniks, the hipster was a lover of bebop, booze, noir and after hours - as this vocab grab will suggest.
The book you need to hunt for more is Straight From The Fridge, Dad, a lexicon compiled by Max Decharne. (You can also look for a few Wordwit puzzles in April on the cool vernacular.) Meanwhile, who can craft the best clues for any of these jumpin' gems, with both definition and wordplay included please? Get wailin'.
abbreviations - underwear
blab sheet - newspaper
body scissors - sex
bone orchard - cemetery
butcher shop - hospital
groanbox - accordion
hoofery - dance hall
indoor aviator - lift operator
lacquer cracker - record
marble city - cemetery
pucker paint - lippie
timebox - prison
waffle iron - electric chair
The alehouse is open for your cryptic carousing, brothers and sisters!