26 February, 2013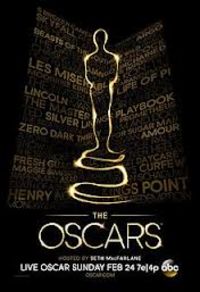 What? No Watts?! Who? No Hugh?! Let's move on, and dip into the clue-pen this week, crafting elegant bits of wordplay for this year's main players at the Academy Awards. Your challenge, under a celluloid codename, is to dream up the best clues in these categories:
SETH MACFARLANE

CHRISTOPH WALTZ

JENNIFER LAWRENCE

Any one of the Best Film nominees, which are: ARGO, AMOUR, BEASTS OF THE SOUTHERN WILD, DJANGO UNCHAINED, LES MISERABLES, LIFE OF PI, LINCOLN, SILVER LININGS PLAYBOOK.
You may notice I omitted ZERO DARK THIRTY, which some of us have manipulated in the past. So that's your brief, auteurs – three mandatory names, and one selection among an octet, for final submission of four clues by Thursday 9pm. As for Friday's voting, let's make 2/1 in the first three, and 3/2/1 in the last.
No need for a definition – just pure wordplay is all you need. And no prizes this week – just measureless kudos awaits our A-lister. Get glamorous.