4 April, 2011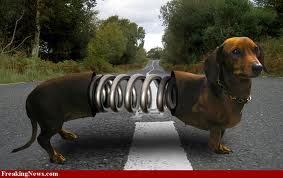 Solving Times crosswords (appearing six days a week in The Australian) has become my new habit. And not just solving, but trying to notch up 100 solved puzzles in a row, with no reference books, no Google, no software and no random Samaritan at the local pub.
Though we can all use this Times post, a regular forum lodged each Monday, to pool our queries and comments, get hints, share triumphs – or bruises – across the following six days. Under the label of Our Troubled Times, I invite any player to play along, get the day's Times and see how you measure up with your fellow solver.
So far I've bumped off 59 straight, with puzzle 60 (or Times No 8969) waiting for me at lunch. See how you fare with the same challenge, and in the meantime, maybe you can clear up last week's two minor mysteries. Namely:
Perhaps Brahms or Bach – tips for exams = JOHANNES (How does the wordplay work?)

Dog's rib = SPRINGER (RK has theorised about Eve springing from Adam's rib, but I'm hoping there's another allusion we're all missing.)
See how you go versus Times 8969.
"