13 October, 2012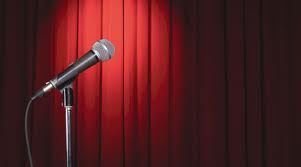 Way I tackled this tally-up was a little different from usual, where I treated all votes – for pairs, and singles – as cumulative hits, to help split a very tight field of duplex clues. Hope you'll indulge me, Dabblers. It just saves a 5-paragraph countback on a sunny weekend…
For example, even using this mash-up approach, we still have three players achieving a 9-point pairing. In ascending order, going by voting sentiment, these were Twins for Wil Anderson [9 points/6 votes], and Mezzanine's Nemo [9/5] and Doppelganger's Russell Brand [9/4], which you can enjoy below:
Easy: Fancy dress ball run by jester
Hard: Stand up for right to advertise outside America
Snaring silver by the same system is the outright Two-Timer on 10/6 for their adroit Kramer:
Easy: Cosmo taking back comment
Hard: Noted erratic vessel going over Mediterranean Sea?
Clearing the stand-up stage for the outstanding Two-Timer's curtain call (we have an obvious winner folks) for their stellar Rodney Rude:
Easy: Comedian's staff backed Japanese currency, rued correction
Hard: Cryptically, one with dry wit?
Kudos to the duplicitous one, and a rapturous ripple of applause for other placegetters. (I was Mezzanine.) The final tally for those with a Brownlow bent, adding up all votes pulled: Two-Timer (21), Doppel (17), Twins (13), Mezzanine (10), Angelina Aniston (6), Mani & Matrix (both 5), Pidgin Pair (4), face/off (2) and bupkis alas for Platonic. Oh well, that's showbiz.
As a general note, try not to submit your final stuff too early on Thursday, as your cream may be overlooked by voters. And that's a shame, in the comedy game. Thanks for the gags. They worked on so many levels.
"