28 October, 2010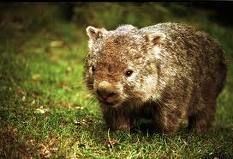 A crossword topic to overlap our recent Overlap storm: This week I faced two clues, both of which play a little loose with the cryptic rulebook. Not that such a book is spelt out in black-and-white, but these two clues certainly test the genre's etiquette.
The key sin in both cases is overlapping. That is, one part of the clue is tasked to serve two purposes. Or as we turn to WOMBAT, a charade clue from my go-to setter, Paul, you'll see the answer's letter B is double-tasked. Take a look:
Pre-pouch protector for marsupial (6)
As far as I can figure, the wordplay breakdown goes like this: WOMB [Pre-pouch] + BAT [protector] = WOMBAT [marsupial]
See how the B is dovetailed by the charade's two parts. Dodgy? Adventurous? Immoral? What do you think about this overlap effect?
The second clue is more tangled, a newish Guardian compiler called Biggles at the controls. You'll see in this container clue, where the answer is GEOMANCY (a means of fortune telling by using thrown soil) how the C is called into action:
Dotty way of prophesying (very Scottish) about Arab country and its leader (8)
Again, to parse the clue:
Dotty way of prophesying [GEOMANCY – though not sure why dotty] = very Scottish [GEY] about Arab country [OMAN] and its leader [C – the leader of country, a word already enlisted to give us Oman]
A twistier piece of business, as befits a Prize Crossword. But do these overlap tactics overstep the mark? Or should a bit of boundary-stretching be applauded?
Share your thoughts, and see who can make the best clues for WOMBAT and GEOMANCY while we're chatting.
"