16 November, 2012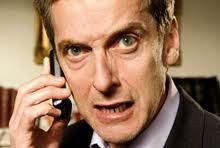 Oxford has stolen a march on its lexical rivals by releasing its Word of the Year in mid-November, cheeky buggers. (At least our own Mac has the decency to wait for the year to conclude before hemming and hawing.)
The winner is OMNISHAMBLES, which applies to any supremely mismanaged situation, a snafu, or the more polite clusterf**k. The word was lifted from the caustic BBC comedy, The Thick of It.
Others on the list include these:
MUMMY PORN – erotica aimed at women
MEDAL (verb) – to win gold, silver or bronze in an event
EUROGEDDON – financial collapse of the euro economy
PLEB – person of low social status (where have you been Oxie old mate?)
SECOND SCREENING – practice of viewing a TV show using non-TV means
GREEN-ON-BLUE – military slang for an attack carried out by a supposed neutral party
YOLO – You Only Live Once, a phrase to rationalise impulsive acts
For some fun, happy to take any clues for these newbies. No medalling as such – just some Friday meddling.