23 February, 2014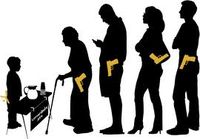 All twelve answers conceal a weapon. Stretcher bearer, say, is ambu-lance. Four of your answers entail a brand name – while a fifth arguably holds two projectiles for the price of one.
Cryptic creation? (9)
Levies (5)
Chemistry's W (8)
Marimba cousin (12)
Native tent (6)
Bike tooth (8)
European nation (9)
Tulle quality (9)
European ex-coin (6)
Essence (6)
Hindu deity (7)
Cold (7)
SOLUTION NEXT WEEK
BB448 SOLUTION: Nectar, Hector, vector, rector, spectre, Lecter, projector, Inspector, reflector, collector, director, protector
"