14 October, 2015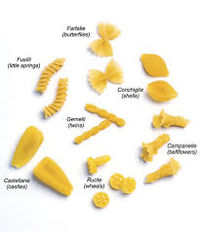 I wish I'd win a hot meal every time LASAGNA or LASAGNE bobs up in a crossword. Along with a side dish of RAVIOLI, and the occasional SPAGHETTI.
Time to put that household pasta in the insinkerator as this week we get a chance to twril and spin different pasta names and shapes. All twelve hail from The Gutsy Gourmet site, complete with pix if you don't believe me.
No need for defintions, just an invitation to get bent with letters, and see what wordplay you can conjure. A blue ribbon to our best chef du jour.
ALFABETO
BIGOLI
CASARECCI
GEMELLI
GIGLI
GRAMIGNONI
MAFALDA
NUVOLE
ORECCHIETTE
PERCIATELLI
SCIVIOTTINI
STROZZAPRETI
By all means - play with your food.