25 October, 2016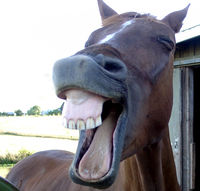 All ten phrases below hail from the home straight of horse racing, with a snip of shorthand etymology in brackets. If you missed my equine cameo on News Breakfast this morning, talking track parlance, then view here. And look for this week's Wordplay column in the Sydney Morning Herald where I splice Flemington with Washington.
Meantime, a week from the Cup, can you win the 'Big Apple' with any of these gee-gee gems? All you need do is to craft a piece of wordplay only - no need for defintion unless that chimes sweetly with your subterfuge. Happy punting.
ACROSS THE BOARD [combination bet on tote]
GIVE AND TAKE [handicap system]
RUNNING MATE [companion horse]
FRONT RUNNER
HANDS DOWN [no need for whip]
SHOO-IN [only needs shooing over line]
HOME AND HOSED [easy win]
HOME STRETCH
COME A CROPPER [fall off horse]
BIG APPLE [plump prize purse]
And we're off!