26 April, 2017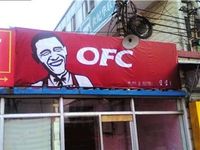 You have to admire the ingenuity of Asian pirates, tweaking well-known Western brands into pseudo-known imitations. Here's a list of my favourites, from Johnny Walker Red Labial to IVIKE (do not adjust your screens).
Fakery of course also invites a burst of cryptic makery. With no call for the definition element, who can rip off the best piece of wordplay for these bazaar rip-offs?
Michaelsoft Bindows
(Johnny Walker) Red Labial
Sunbucks (Coffee)
GameChild
PolyStation
Pizza Huh
Specialman (as in Clark Kentish)
adadas
WuMart
IVIKE
SQNY
Who will best foster the impostors?