12 May, 2012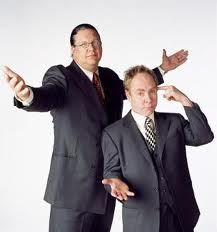 Not since Penn and Teller, have we oohed and aahed with such goggle-eyed rapture. Yes, the Jack-and-Jill slamdown, where coupled clues could only stand by their merits, was a Storm worthy of a prize.
But before going there, my own impressions. Some clues were zingers (like Thelma's Simon, held back by economist). Others innovated (think 99's homophone nudge 'hit the waves'), but unless the companion clue rose to equal heights, I went elsewhere. Cruel, but them's the rules, and a reminder to all – if you're not on the honour board, you still may have crafted gold. Or half-gold. Now to the real gold:
FIFTH on 11 points (3 votes) is Saatchi, for this hairy combo:
SAMSON: Sun commences morning issue
DELILAH: Broadcast held about retiring boxer
FOURTH is Oates (aka Astle) on 13 (4) with a white-good whirlpool:
FISHER: Speaker's crack
PAYKEL: Kath's demand to be a kept woman?
BRONZE is Saatchi again – a strong campaign with a 14 (5) return – for his/her stellar:
HUTCH: Church chases accommodation…
STARSKY: …for heavenly couple
SILVER now dangles on Rosencrantz 15 (3!!) for a proven dynamic duo:
BATMAN: Spooner's blackout?
ROBIN: Partially disrobing
While Michael Quinion's wonderful Q-with-U book will be zooming across to the very same, Mr/s Rosencrantz for the high-scoring – 32 (8) – hi-fi genius:
BANG: Bar closed by midnight
OLUFSEN: Flu shot stopped runny nose
Hip & hip to Rosie for an emphatic smash & grab. (Your Olufsen was five-star.) In fact the whole tumult rocked – with some great ideas, and plenty of generous feedback in transit. A pity the podium has only three cluers aboard, since there was ample delight from Isolde, Abercrombie, Taxes, The Whale, Dr Gonzo, Withnail….you know who you are. Except we don't. Fess here, and thanks for the thrills & spills.