6 May, 2014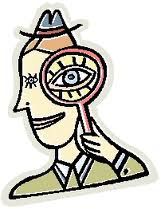 This week I'm playing with MUMS – that's the Melbourne Uni Maths Society. A regular guest on the DA blog – Geoff Bailey – is a veteran of such querulous quests, and invited me to join his team. So far we've completed 3 of the 4 puzzles, with Blue Moon (or 1.2) the rabid dog in the manger.
While it's too late to join a team, there's nothing from stopping you dropping by the MUMS site and seeing how brain-bruising these puzzles can be. Despite the acronym, the enigmas are as likely to be verbal, spatial or chronometric as stone-cold maths. It is quite addictive, and the puzzles have that deceptive sheen of innocence.
Another site I can recommend, as this has the advantage of bonus hints and solutions, is the diabolic baby of CISRA – Canon Information Systems Research Australia. These puzzles are the output of such elite setter-solvers as Geoff, David Morgan-Mar, Andrew Shellshear and others. Well worth browsing.
Back at MUMS, a new set of puzzles is due to drop at noon every day this week. Take a peek, and feel free to swoon and wince in the Comments below. Beware – they are 10 on a scale of pain, where 1 is ticklish and 10 a blister pack of Panadol Forte.
With so much puzzling hunting going down, you can understand why the usual Brainstorm is on ice. So make the most of both archives – and the latest puzzles – and share your discoveries. And any breakthroughs, please!