4 September, 2012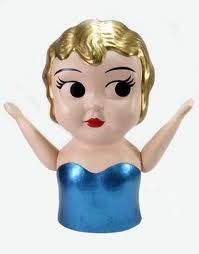 Three wordy questions from emails over the week. A virtual Kewpie doll for anyone who has the deadeye to shoot any one down.
From Felix, who asks, "I have a friend who after 12 months of retrenchment (he was with the company for 10 years) landed (he applied and was vetted against four other short-listed applicants) in the same permanent full-time job (deputy CEO), same company, and same boss. Is there a word for this oddity?" My early bid: pretrenched.

No less peculiar, a bloke called Andrew had something to ask about death. "This week we lost composer Hal David and singer Max Bygrave. To be honest, I thought we'd already lost them. Is there a word to describe that scenario when someone dies who you'd thought was dead already?" Early bid: ignorant.

Our last comes from Anne, a quote-question: "I heard the expresison on TV, "Sufficient unto the day is the GOOD thereof." Yet I'd always thought the saying went, "Sufficient to the day, Oh Lord, is the EVIL thereof". Which one's right?" Early bid: not my area. Google hedged. Any ecumenical scholars in the mosh?
All suggestions welcome. Look for a springtime Storm this arvo.