24 June, 2011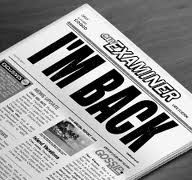 Four days of exile. Ninety-six hours of Telstra twilight. Five thousand-odd minutes of living La Vida Muta. You get my drift. The data point has arrived in the ad-hoc office, and your blog host is back online, ready to resume the verbal rumble.
Mind you, after such an extended limbo, I do have 300 emails to sort, and not a few clues, columns, puzzles and TV yarns to research….So excuse me, while I sustain a certain website lull.
Meantime, to bring the faithful back to the fold, here's a little word challenge you may like to mull. Let's call it, Moving the Goalposts.
If the letter H represents the goalposts (and go The Tahs tonight), then what words can see the goalposts budged to spell a new word? SHOO is one such candidate. One tweak, and SOHO appears. Another specimen is HEIGHT, which renders EIGHTH.
The key is one neat manipulation, with no other shuffling involved. Think of any more examples? Feel free to give them cold, such as my last two pairs, or maybe we can clue them. Hence my SHOO/SOHO coupling would be:
Scram/London's tenderloin?
Any more goalpost-movers we can name? Post them here.