8 November, 2016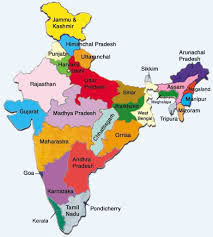 In a few weeks I'll be touring India with Wordburger, a non-vegan book for non-Hindi readers who can't get enough of quirky wordplay. Hence the blog has been a tad quiet as I cram to finish my 2nd manuscript inside 3 months. Crazy, hazy days of hay-fever November...
Anyhow, just to keep your clue-pecs toned, here's a shortlist of 15 Indian states and territories. Some delectable names for you to mould in any shape or mode, with no call for a definition unless that benefits the clue's flow.
Jump in. The subcontinent awaits.
ANDHRA PRADESH
BIHAR
GUJARAT
HARYANA
KARNATAKA
KERALA
MAHARASHTRA
MANIPUR
MIZORAM
NAGALAND
ODISHA
SIKKIM
TAMIL NADU
TRIPUNA
WEST BENGAL
Get it India!