12 May, 2014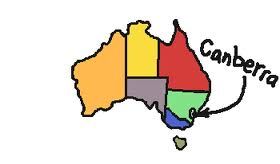 A Wordplay reader has just rapped my knuckles for a crime against geography. Here's the gist of his beef: "This week you slipped in a derogatory reference to "Canberra" when you really meant the Tax Office, the Federal Government or the Liberal Party. To use the name "Canberra" in such a disparaging sense, is to pander to the Canberra-hating populace…"
The reader makes a fair point. Federal parliament is not the same as the city – one of which is very enchanting. At first glance it seems we have entered that risky territory of metonymy, where one thing (or location) represents the whole.
Hollywood and Silicon Valley are two more instances. Some suburbs could also apply: Toorak and Vaulcluse, perhaps, to denote the monied. Or Bangalore to epitomise outsourcing… Love to extend the list.
Or is Canberra a different caucus of fish? Is this metonym, or anther device? The Macquarie has Canberra – as Definition 2 – as the Australian government in relation to other national governments or to the State governments. So what's the correct term for such an association? Any suggestions?
And what's your own take on this pollies-versus-polis dilemma when it comes to Canberra? I'm sensing a column to come, and would love your input.
Ditto for crossword tips and triumphs here too. I'm gunning for #13, just quietly. And today's Times looks a delight, with four 15s to frame the whole. Dive in.