6 June, 2013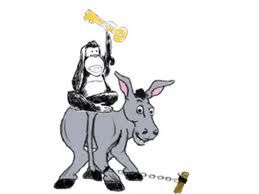 Birdbrain guru JC (and I mean that in a nice way) came up with a great idea for a rolling puzzle. In case you missed the conundrum I posted on Sunday, a DONKEY can become a MONKEY when its initial is doubled. (That is, D x 2 = M, to Nero's way of thinking.)
Opens the way to all sorts of couples, as JC highlighted. Where WAVY can get the treatment to be WAXY. Or LOVER turns to COVER, and BLADE, BLAME. Keeping to that logic, let's compose clues to signal each pairing, where you double a Roman numeral in the first to spell the second word.
(Only one change per clue please. And ensure the small number comes first, to make the double act work.) For example: Stir up airline (3,3) = REV REX
DA1 – Final shot (4,4)
DA2 – Inkblot? (4,4)
DA3 – Gets down to brassy basics (5,5)
DA4 – Freak out secret lover (8,8)
DA5 – Screw getting closer? (6,6)
DA6 – Carried symbol (5,5)
To double the fun, add your own clues, with byline and number.