14 April, 2014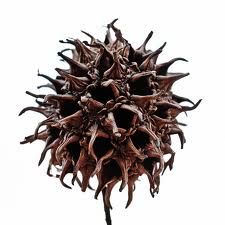 Just hopped off the phone, chatting to ABC Radio about bommy knockers. If you don't know the term, you may know those spiky liquidambar pods by a different name. A good friend calls them prickle bombs, while my family dubbed them maces, or doobs. Did your clan call them something else?
Here's a another conundrum: What 4-letter word can be duplicated – without its head, then without its tail – to spell a common 6-letter word? for example, if ORDWOR was a WORD, then WORD would be your answer. (I'm pretty sure the answer is unique.)
Aiming for double figures this week on the Times Tally. If I can 'conker' today's puzzle, that adds up to #7. The century is in sight. Feel free to join the challenge at any stage, resisting the temptation of any search engine or reference book.
Or be my guest, and dabble in the clue comps, Birdbrains and Guardian goss here at DA Central. Have a wordilicious week, won't you?