28 April, 2014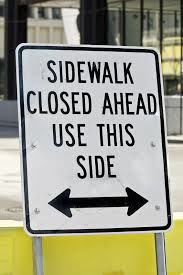 At a cafe on the weekend, I came across a sign that read: This door is broken. Please enter via the other side.
Seems clear enough. Except when you consider this was a double door, not to mention the cafe had an alternative entrance off the junction's other street. I found myself torn between two doors, and took my business elsewhere.
Ambiguity is a topic I've been pondering a little more lately, as has John Rentoul for The Independent. Click here to see his Top 10 List of Ambiguous Signs, including such head-benders as:
'Women'
Slow Children Playing
Train Drivers Must Not Be Disturbed
Any more ambiguities you can add? We deal with them all the time, as crossword solvers, but what about at work, on signs, in cafe culture?
And while at the cafe, why not solve some stellar clues, like this Times dazzler: The only article newsman finally pulled, working on paper (13)
Share other gems, or clangers, from the week's worth of crosswords here. And have a wordomatic week.